"A True Bourbon."  That was once the emphatic claim of Ten High, formerly a straight bourbon whiskey, now a mere blend.  Although it wasn't that great in the first place, it's still unfortunate that this storied brand has devolved into a degenerate.
Ten High had a nice run in its post-Prohibition glory days.  A product of legendary booze company Hiram Walker & Sons, Ten High was introduced in the U.S. in 1934 and distilled in (of all places) Peoria, Illinois.    "No rough edges," the first 1930s print ads claimed.  "Aging winter and summer for 2 years does it!"  The Ten High name referred to Hiram Walker's practice of aging the bourbon in ricks ten barrels high.
Ten High's cheap price kept it alive past its 1930s/40s heyday — that, and the fact that it was indeed straight bourbon, no matter how young and mediocre.  The Peoria operation shut down in 1973 and production of Ten High moved to Kentucky.  New ownership launched the "True Bourbon" ad campaign and emphasized its new Kentucky home, but it couldn't halt the brand's steady slide into obscurity.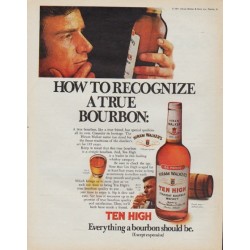 In 2009, the deteriorating carcass of Ten High passed into the hands of Sazerac Company, owner of Barton Brands and Buffalo Trace Distillery, among others.  That same year, without warning, the labels on the bottles mysteriously changed:  Where once they read "Kentucky Straight Bourbon Whiskey," they now read "Bourbon Whiskey — a Blend."  The price didn't change, though.  The twenty bucks that bought you a handle of passable bourbon now gets you 51% bourbon mixed with vodka.
Not that there was any huge outcry, then or now.  Unlike when Jack Daniel's lowered its proof (and survived the firestorm) or when Maker's Mark did the same (and backtracked within a week) Ten High's even more grotesque disfigurement has gone almost unnoticed.  But that doesn't make it any less lamentable.  Once a bottom-shelfer worth picking up by boozers on a budget, Ten High is now a monster more to be pitied than despised.