For a mediocre whisky, it was a brilliant advertising stunt.
Called the "Hide a Case" campaign, the Hiram Walker & Sons liquor company sent adventurous boozehounds on a treasure hunt back in the 1960s, 70s and 80s. Twenty-five cases of Canadian Club were hidden around the world, free for the taking for whoever discovered them. Such a campaign wouldn't fly nowadays — nannies and scolds would fret about kids finding the caches — but back then it was a marketing triumph that kept the CC brand in the news.
The company first started hiding cases in 1967. Some were stashed in big cities, and others were hidden out of the way: in Death Valley, atop Mt. Kilimanjaro, or under Angel Falls in the Venezuelan jungle. To build excitement, Hiram Walker took out splashy ads in magazines, revealing the general location of the loot but only vague clues as to the exact location.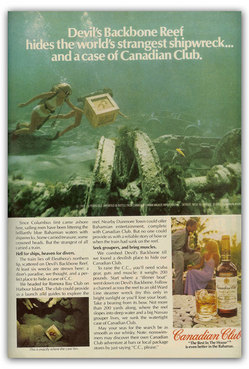 Even though the prize was only about $120 worth of free booze, the hunt captured the public imagination. Hiram Walker made even more advertising hay by touting the adventures of the successful hunters. The couple that found that found the Angel Falls booty, for example, altered their honeymoon plans to battle rapids and rainforest before reaching their prize.
The popular campaign kept on going all the way until 1981; but when it finally wound up, nine of the 25 hidden cases still remained undiscovered. In 2010 it was briefly revived as a Survivor-style game in which one more cache was discovered, this time in the Kingdom of Tonga.
That leaves eight still unaccounted for to this day. Six of the locations can be deduced from the old ads: the Yukon Territory, Loch Ness, Tanzania, Robinson Crusoe Island, the North Pole, and — oddly — Lake Placid, NY.
It's not likely they'll ever be found. A few years ago, a Lake Placid journalist contacted Beam-Suntory (the present owner of the CC label) about the whereabouts of that stash. "Great question," she was told. The Beam spokesperson went on:
"Unfortunately, those responsible for hiding the cases are no longer with Canadian Club and we don't have records about where they are. I wish I could give you more information, but unfortunately, they're lost."
A Scotsman named Gary Campbell was on the trail of the Loch Ness stash as recently as 2015. He thought he figured out the clues to the location — at the north end of the loch, near a local pub — but the booze wasn't there. Campbell theorized that "underwater wave formations" in the vast loch shifted it around. He didn't think Nessie drank it, he added, saying that she would prefer a scotch single malt.
Wouldn't we all. But 50 years ago it was uninspiring, workmanlike Canadian Club that was the toast of the day, thanks to a stroke of advertising genius.