If I had to pick the biggest booze story of 2015, it would be the meteoric and continuing rise of Not Your Father's Root Beer (hereinafter NYFRB) the brand of alcoholic root beer so popular that no store can keep it in stock. Even at $10 (or more) for a 6-pack, demand for the stuff far outpaces supply. The numbers are phenomenal, especially considering that parent company Small Town Brewery, a new player on the scene, would not seem to have the facilities to crank out all the boozy root beer the public is begging for:
During the 10-plus months since Not Your Father's Root Beer has been available across the U.S., Small Town Brewery has become the nation's sixth best-selling craft beer brand in stores, according to IRI, a Chicago-based market research firm.

It's difficult to overstate how unlikely such growth is: Based solely on the strength of one product — Not Your Father's Root Beer — Small Town Brewery trailed only Samuel Adams, Sierra Nevada, New Belgium, Shiner and Lagunitas in terms of sales through the summer. That one brand had soared past the entire portfolios of industry stalwarts like Goose Island, Stone and Bell's.
If NYFRB hasn't earned a lot of praise from beer afficionados and serious drinkers, it more than makes up for them in weekend drinkers who love the alcohol-masking, super-sweet root beer flavor.
Knockoffs are already cropping up from competitors large and small. Sprecher Brewing Company's version, shamelessly called Not Your Granddaddy's Root Beer, is the target of a lawsuit by Small Town Brewery. Boston Beer Company, maker of Samuel Adams, is behind Coney Island Hard Root Beer, which emerged as a rival to NYFRB this summer.
Anheuser-Busch InBev enters the fray this week. Through its subsidiary Best Damn Brewing Company — camouflaged to appear to be an independant craft brewer — A-B InBev has already launched Best Damn Apple Ale ("bobbing for awesome" is their lame pitch) to compete with Redd's Apple Ale. Next up is Best Damn Root Beer, scheduled to roll out nationwide December 14th.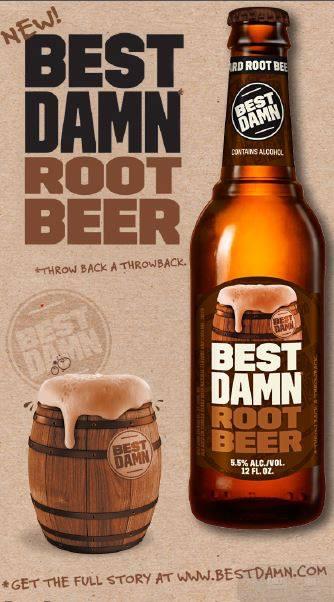 NYFRB has a good head start on its competition, and its murky connections to Phusion Projects, the company that created Four Loko (noted here at The Brutal Hammer) don't seem to have hurt in the least. Sugar is the new hops, as one drinks scribe has put it. "Malternative" hard sodas, root beer and the like seem to me more than just a temporary fad.